A new patient came to our office today for a routine checkup. Nothing was bothering him, but he had not been to the dentist in a few years and decided it was time to get back on track with his dental care.
I completed my exam and this is what I saw when I looked at some of his teeth.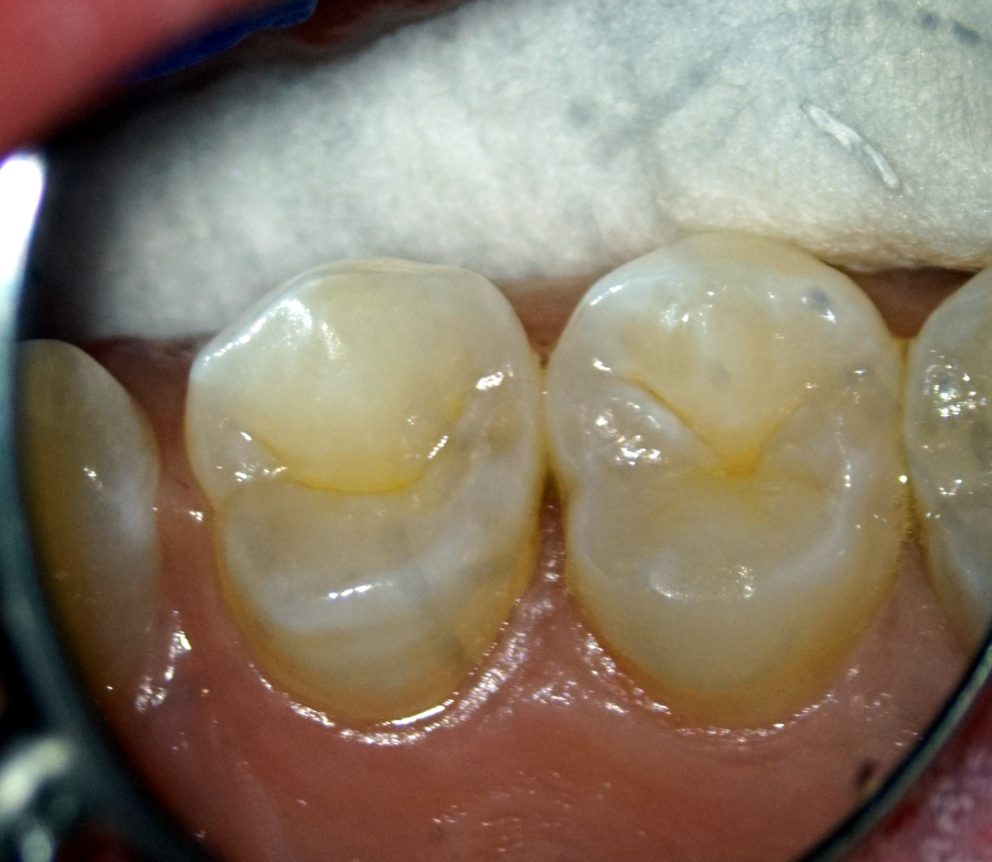 Do you see what I see? If you think that these teeth look pretty normal, that's exactly what I was thinking too. That is, until I saw the x-rays of his teeth.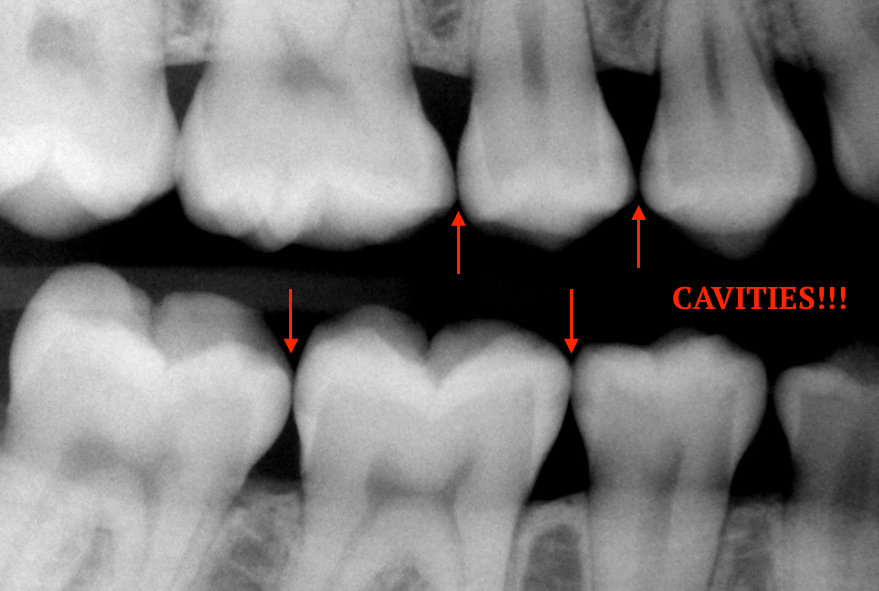 The red arrows on the radiograph above indicate areas where decay is seen. The tell-tale shadowing where the teeth touch are areas of the tooth that have softened due to decay. Dental x-rays play a critical role in helping to detect problems that the naked eye cannot see. 
The patient made an appointment for treatment and upon removal the outer layer of the tooth, the cavities are now quite obvious, as you can see.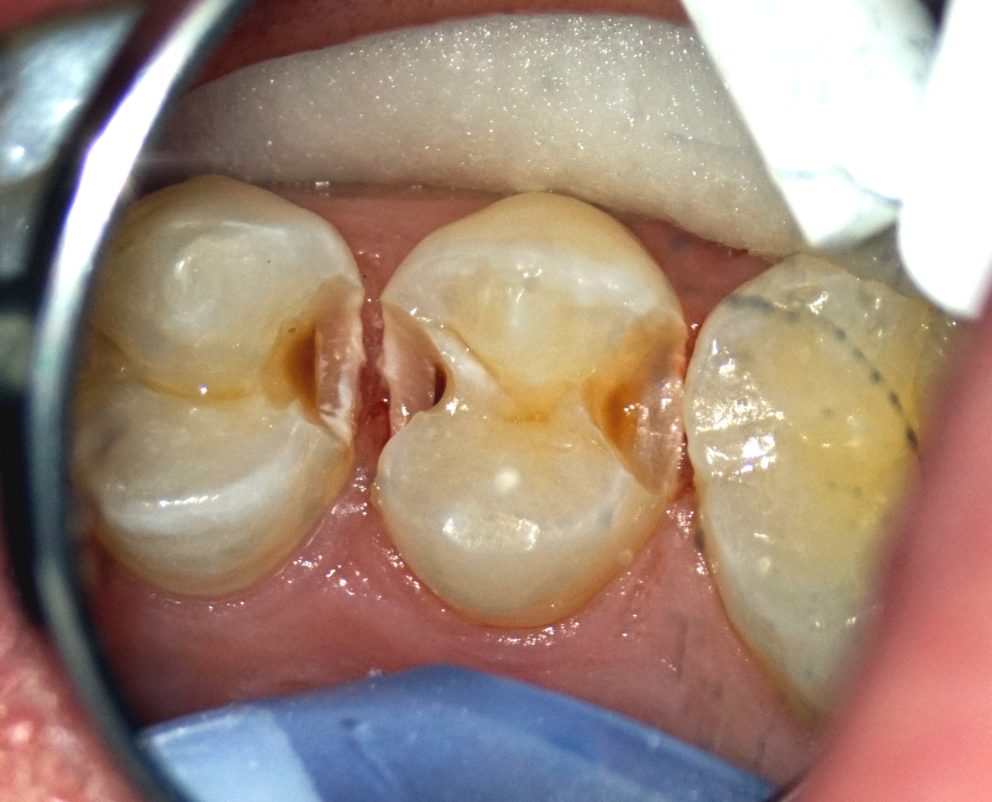 After removing all of the decay, we restored the tooth using a composite resin material that looks great and will keep the tooth in good function for many years to come.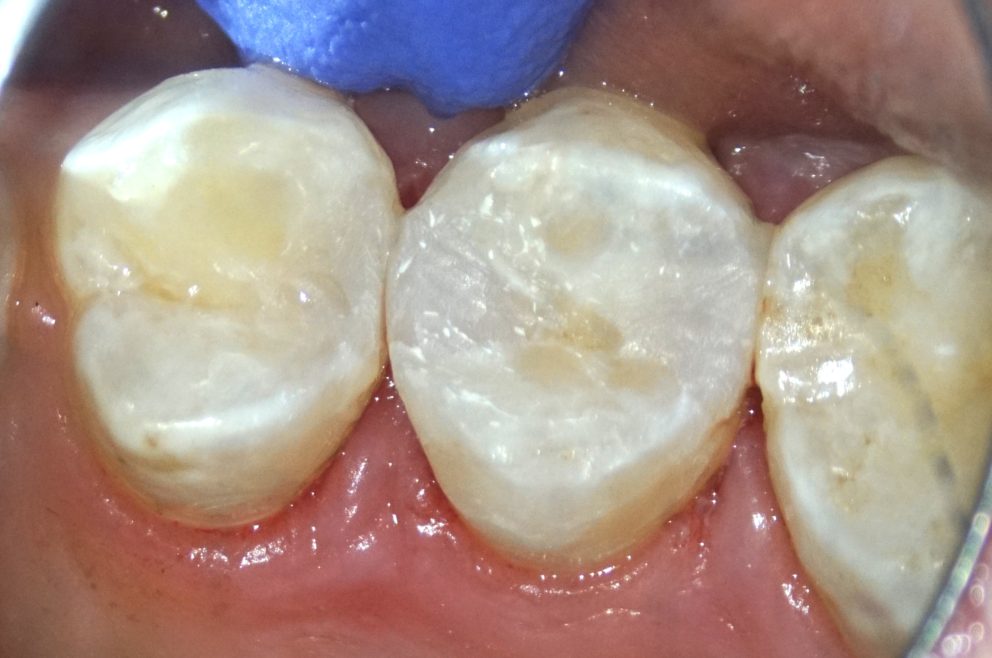 We were fortunate that these cavities were detected and treated relatively early on with a quick and inexpensive procedure. 
As a general dentist, I see cases like this daily and there are a many good lessons to learn from this case. A couple final points to leave you with:
The absence of symptoms does not necessarily indicate the absence of disease. The patient had no pain to indicate anything was wrong with his teeth. Had these cavities continued to progress deeper into the tooth, the likelihood of needing more extensive treatments, such as root canals and crowns, becomes much greater.
Routine checkups are critical to catch problems early on.  Every 6 months is the recommended interval between checkups.
Are you overdue for your checkup? Contact us today to schedule an appointment and we'll get you back to optimal oral health!
In service,
Dr. Bernard Tran, DDS
Dr. Tran focuses on providing preventive care, general dentistry, and comprehensive restorative therapies. He also offers several other services designed to improve your oral health and appearance, including teeth whitening, Invisalign clear orthodontia, and NTI appliances for relief of nagging TMD symptoms.
Dr. Tran understands anxiety at the prospect of visiting the dentist, and he has a special gift for easing patients' nerves. He will take time to explain your proposed treatment plan and answer all of your questions. Only when you're satisfied will your treatment begin. You can be confident that the care you receive will address your unique oral health needs with conservative, efficient, and effective procedures.