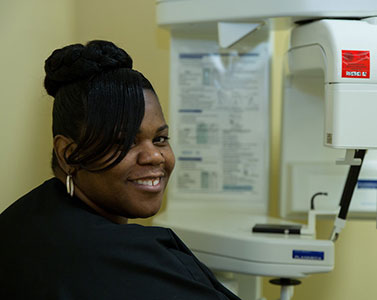 Optimal oral health involves preventing dental problems from arising and helping patients of all ages maintain healthy smiles through ongoing care. At our Laurel, MD office, we strive to eliminate common dental woes like tooth decay and gum disease. We can often achieve this goal by providing regular checkups and cleanings for children and adults, as well as access to the latest hygiene products, techniques, and information. As a patient in our office, you can expect full-service dentistry from a dentist who truly cares!
At your exam, Dr. Tran may take digital X-rays, scan your teeth for decay, screen for oral cancer, examine your gum tissue, and show you intraoral images. Sometimes, patients benefit from short informational videos that offer simple explanations specific to their needs. If you snore, grind your teeth, or show early signs of gum disease, we may also suggest pro-active methods to restore your oral health. Our entire team enjoys educating patients, and we value the opportunity to help you gain a complete understanding of the general dental care you receive.
Dr. Tran's preventative dentistry services include:
Regular Exams
Dental care begins with a comprehensive review of your medical and dental histories, a head and neck examination, and a screening for oral cancer.
Professional Cleanings
Regular cleanings are essential for good looks and good dental hygiene. Rest assured that your comfort remains a top priority during every step of your professional cleaning.
Children's Dentistry
Learning how to brush and floss correctly at a young age is vital to having a healthy mouth later in life. We recommend children as young as two begin regular children's dentistry visits.
Dental Sealants
Thin plastic coatings applied to the chewing surfaces of the back teeth can help prevent cavities and are primarily recommended for children and teens.