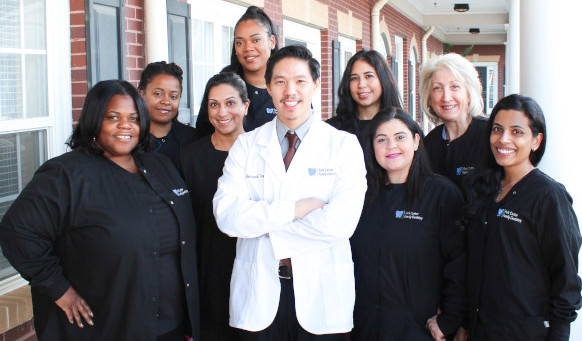 October 31, 2020
Dear patients and friends,
Our office is committed to the safety of our patients and team members as we practice dentistry during the COVID-19 pandemic. Below you will find a summary of the changes we have implemented since our office reopening in June.
Reduced patient volume – We are seeing less patients during our office hours in order to reduce the amount of traffic in and out of the office. However, this may mean a longer wait for a dental appointment. This is an unfortunate reality of practicing dentistry during the pandemic and we appreciate your patience and understanding during these unprecedented times.
Patient screening – All visitors must complete a COVID symptom questionnaire and have their temperature taken prior to being seen. If you are displaying any symptoms, you will be asked to reschedule.
Parking lot check-in – Rather than wait in our waiting room, all patients will call the office upon arrival to check-in for their appointment over the phone.
Hydrogen peroxide mouth rinse prior to treatment – There is little peer-reviewed clinical evidence for or against this measure, due to SARS-CoV-2 being a novel virus. However, because this is a safe procedure with little detriment (mainly the taste) yet great potential benefit, we have decided to implement this as part of our treatment protocol.
Air purifiers – We have installed multiple True HEPA air purifiers to provide a continuous supply of purified air throughout the office.
Face masks – Are required to be worn by all visitors and team members while in the office.
Dental dam use during treatment – This simple piece of equipment helps to isolate the oral cavity during dental procedures to minimize the production of dental aerosols, among many other benefits.
Enhanced PPE – our new standard of PPE during patient treatment includes the following:
Full length surgical gowns
Surgical caps
N-95 respirators covered by surgical masks
Face shields
Nitrile surgical gloves
Hospital-grade disinfection of N-95 respirators – In order to manage the shortage and astronomical cost of respirators, we utilize the Battelle Critical Care Decontamination System.
Mitigation of dental aerosols – We perform ULV fogging throughout the day using a powerful oxidizing agent, hypochlorous acid, to neutralize SARS-CoV-2.
Changes in Hours of Operation
Through the end of the year, our operating hours will be
Monday 7am-5pm
Wednesday 7am-5pm
Friday 7am-3pm
2 Saturdays a month from 8am-12pm
We understand that these days and times may not be ideal for some and apologize in advance for any inconvenience. These hours are subject to change as we continue to assess the needs of our team and community.
If you are having a dental emergency outside of our normal office hours, you may reach Dr. Tran via voice/text at 347-688-3054 or via email at smile@parkcenterfamilydentistry.com
Sincerely,
Dr. Tran